Markus Ossola, polsan AG
I support various organisations in their political work. These are not only active at the national level, but also in different cantons and with different focuses. In this dynamic process, it is an art to always know what is going on and not to miss anything important.
The POLITmonitor is central to my work and we are constantly developing it so that it is tailored exactly to the needs of the political actors. It's the little things that make this process easier – for example, the most important business that will be dealt with next is immediately visible on the dashboard. This way, I know for my Bernese mandate which important business is on the agenda in the Grand Council.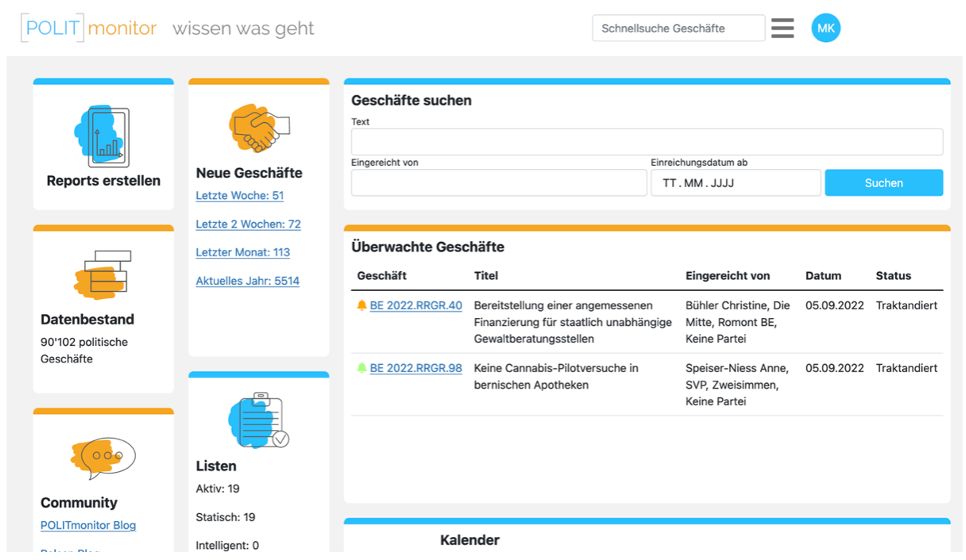 Once my colleagues in Bern have been provided with information and recommendations, I can devote myself to another mandate. For example, the dashboard tells me that the premium relief initiative is on the agenda of the Finance Committee of the Council of States at the end of the month and of the Health Committee at the beginning of September. And so to the real crux: it's not enough to know what's going on – I should also know who is deciding on the bills that are important to me. It helps me that our POLITmonitor has integrated all the councillors of the national and cantonal parliaments. So quickly define the search criteria…

… and voila: a distribution list appears with all the members of the relevant commission, including their contact details. But before I plan my communication, I would like to take a closer look at some of the commission members to find possible points of contact. For example, the FDP Councillor of States Gapany.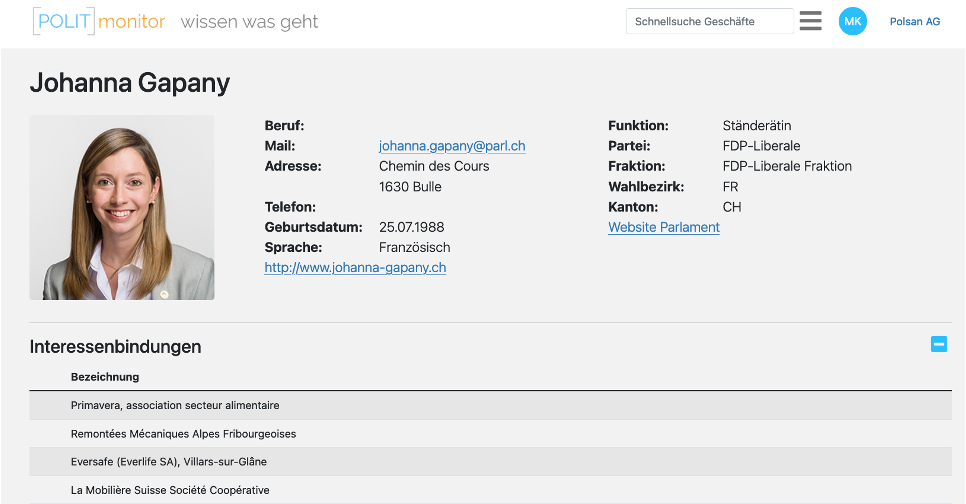 Don't get me wrong: the real work is just beginning. No argument has yet been formulated by me and those who should hear the arguments do not know about them yet. But with POLITmonitor, all the preliminary work is made much easier and an overview is generated within a very short time, which is central to the further procedure. With POLITmonitoring, manually updating tables and searching for information is finally a thing of the past. I can now focus on the real art: the argument!