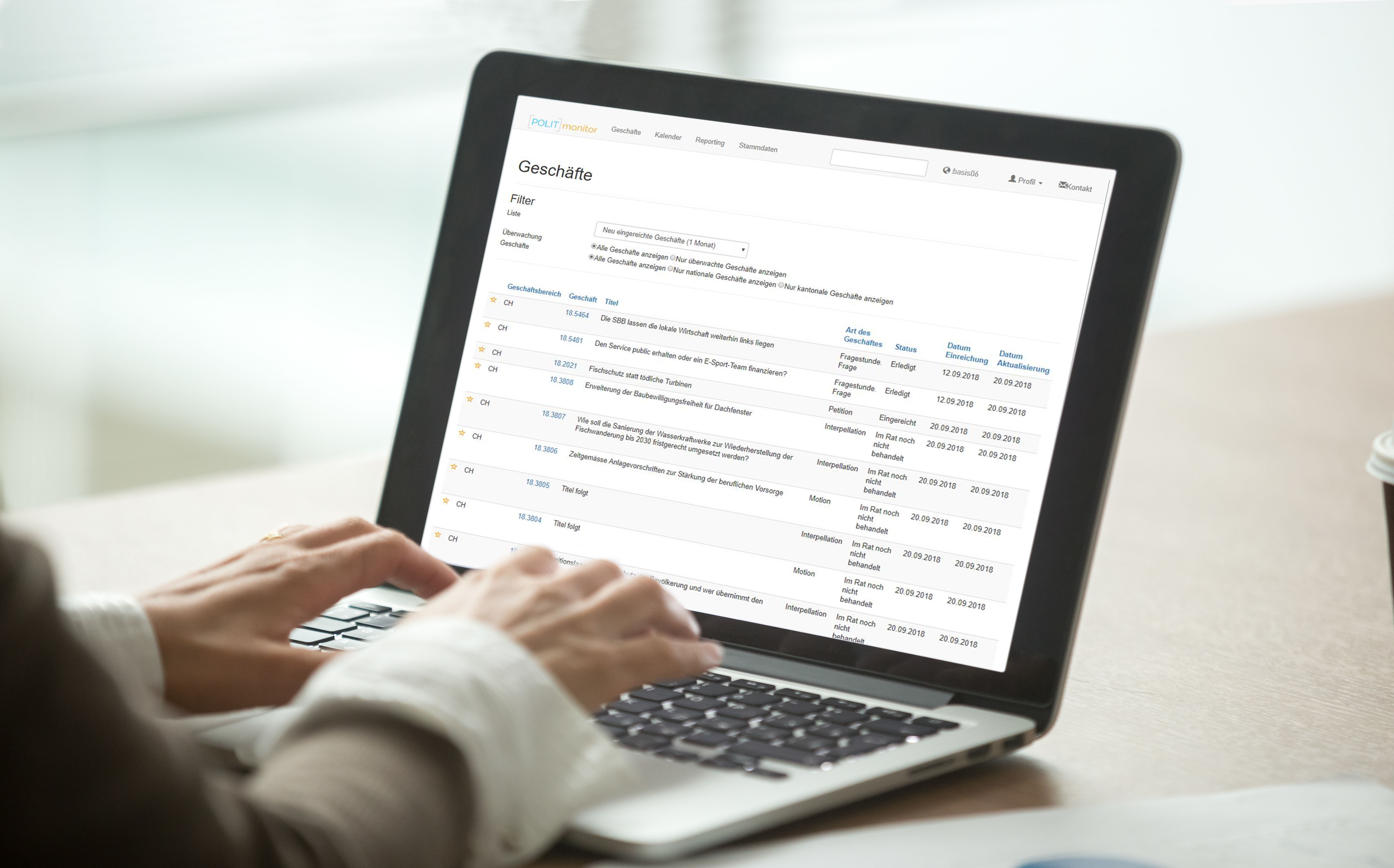 Offers
Please note that certain features of the POLITmonitor may be limited or unavailable depending on the options selected.
Topics and Keywords
You decide which affairs POLITmonitor should monitor for you. You choose from a list of topics. You can also work with us to define keywords that are relevant to you and that the POLITmonitor will use to search the databases of the Confederation and the cantons. At the federal level, POLITmonitor data is continuously updated. At the cantonal level, our experts do this for you at least once a week.
Database Access and Notifications
Once you have defined your topics and keywords, you will receive online access to the database tailored to your needs. This allows you to create your own lists or to search for affairs and persons yourself, for example, Swiss parliamentarians or members of commissions. You can make personal notes on important transactions or enter your own appointments as you wish, thus recording important, additional information about the affairs for you. Highly relevant affairs can be identified. If their treatment status changes, you will automatically be informed by e-mail. POLITmonitor ensures that you don't miss a thing.
Confederation and Cantons
Most of the actors are guided by political events at the federal level. The cantons are often forgotten. They are the main players in many policy areas, such as education. In many other areas, they are central actors, whether as innovators and pace-setters or in the implementation of federal laws; these thus also have a decisive influence on municipal policy. Anyone who wants to help shape policy in Switzerland (even at the municipal level) cannot avoid closely monitoring the federal and cantonal levels. With the POLITmonitor, you can keep an eye on both levels at all times. You can choose whether you want to monitor only national politics or also the cantons.